Critical motors condition monitoring
As part of AI and Digital transformation initiative, Customer would like to monitor the condition of the motors which are critical in the operations.
In addition to remote condition monitoring, requirement to report critical alerts and warnings in few seconds was challenge. Patterns7 was involved in building front end analytics and incident management platform.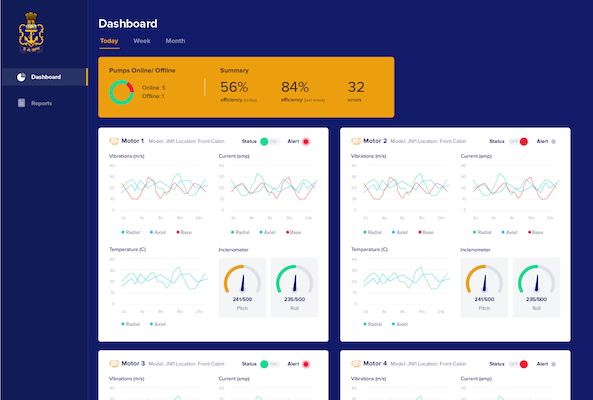 Key Challenges
Collaborating with the backend team understanding the data contract.
Dynamic refresh of the graphs sothat realtime data is reflected.
Risk factor analysis and efficiency reporting.
Ability to convert reported alerts to incidents.
Ready for process automation?
The Solution
Patterns7 front end capabilities from IoT platform helped to provide customized solution to clients requirements.
Realtime monitoring of Daily, Weekly and Monthly key parameters like Vibration, Temperature, Input Current, Earth Current etc.
Realtime alert reporting helped to apply thresholds and identify abnormal behaviours.
Analytics dashboard for clients data insights.
Alert reporting and incident management solution to fix the problem.
Benefits of remote condition monitoring of Motors
Remote condition monitoring in realtime !!
Reporting and addressing faults on time helped to improve efficiency.
Improved customer satisfaction with pro-active servicing.

Predictive Analytics dashboard with data insights and risk factor.
Request for demo
Explore how Patterns7 IoT platform can help building connected eco-system
Copyright © Patterns7 Technology.  All Rights Reserved